With your campaign website live, up, and running, you can view and measure a number of metrics and statistics related to the performance of a campaign.
Click Fund Raising > Campaigns, and click the campaign you need.
Click Campaign Analytics.
Provided that there is relevant historical data, you can do the following. 
Enable the page views: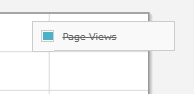 View the statistics for campaign pages:

Click the bar representing a page, and see the complete list of referring URLs (by further drilling into the Page Summary bar), for example: