In Generous, you can add and edit multiple events.
Click Connections > Events > Event
Fill out the necessary details, and click Save
The event is saved accordingly, for example: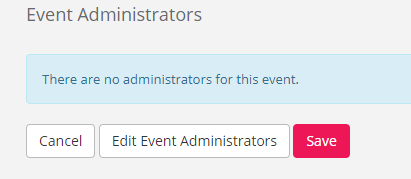 Scroll to the top of the web-page, and click the Questions tab
In the Question field, type in an event's question, and select its type, Text Box or Dropdown List (if you selected the latter, type in a possible answer, and click Add Answer Choice to add more options on the drop-down list).
Tip: To make a question mandatory, remember to select the Required check-box. These questions, mandatory and optional ones, will be displayed when an event attendee is being registered (the "Add Attendee" dialog box)
Click Save, then click the Fees tab, and fill out required details
Click the Attendees tab, Add Attendee, fill out the details, and click Submit
Tip: With the attendees registering for an upcoming event, you can navigate back to that event, click the Email Notification tab, enter or update the email's details, and click Send Email to notify all of the attendees about upcoming changes, if any.
Click Connections > Events > Create Search URL.
Note: If you do not specify any start and end dates, a campus, etc, then the automatically constructed URL will include all applicable events that meet very broad search criteria, thus giving a congregant an opportunity to register for as many as they want to. Note also that if you select the Show Calendar check-box, then the resulting web-page will be displayed as a calendar (rather than a list of events).
Copy the web-address in the List URL field, and then paste into a browser's tab. 
Depending on the search criteria you used to construct your URL, all of the applicable events are displayed, for example: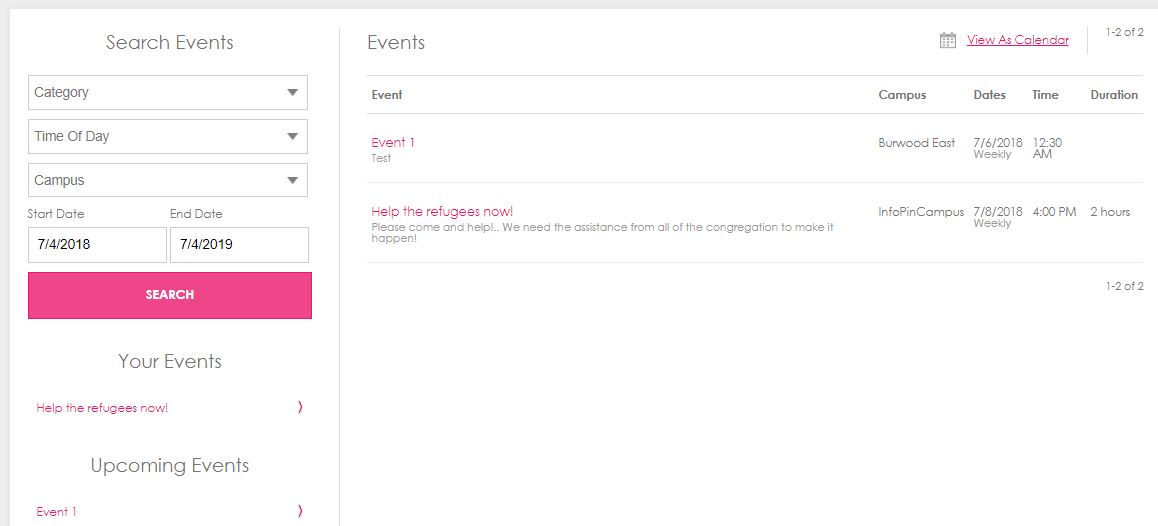 You can choose to either host this web page for events on your site, or separately, or share the hyperlink across to all those who would like to attend. Once they register for a particular event (either when logged on to their Generous account, or outside of Generous app), you can view those attending by navigating to: Connections > Events > Search, and clicking Edit (next to a specific event), and then the Attendees tab.